Welcome to our family farm…
ALWAYS Phone ahead for picking and weather conditions – Info Line: (807) 475-5181
Address: 752 Candy Mountain Drive, Slate River ON P7J 0C2
Estimated Hours:  The Farm is closed for the winter season.  We'll open again in the spring of 2018.  We are a weather based business and so strongly suggest you check the info line (807 475 5181) or our Farm Update blog posts just before coming out to confirm produce availability. Pick your own hours vary by season so please check the info line or updated posts.
Children: It's so important to us to have your children visit the farm and learn about where their food comes from!  When you're here visiting, please remember that we are a working farm in a natural environment with a sometimes busy parking lot.  Please actively supervise your little ones!
Pets: Although we understand pets are part of your family, unfortunately we can't allow them on the farm due to health regulations regarding unknown animals around food production. Also, it is often hot in the summer and your car is not a safe place for animals in the heat. Thanks!
Directions:
From Thunder Bay, Take Hwy 61 S past the airport.  Turn Right on McCluskey Dr., the next Right on Hwy 130 and the first Left onto Candy Mtn. Dr.  We're about 15 minutes past the airport.
OR
Take Arthur St. W or the new Hwy 11/17 extension W and turn Left onto Hwy 130.  Follow it around until Candy Mtn. Dr. and turn right.  We're about 10 minutes from Twin City Crossroads.


Get in touch by email
Please use the form below, or give us a call at (807) 475-5181 if it's time-sensitive.

Order Online – All Year!
Can't make it to the farm or Country Market? Shop fresh produce delivered straight to you from us and other great local growers at Superior Season Food Market.
Deliveries/Pickups: Wednesdays, Saturdays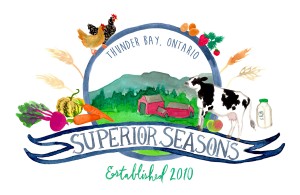 At the Thunder Bay Country Market
Address: Dove Building, CLE Grounds, 425 Northern Ave, Thunder Bay, ON, Canada
Hours: Saturdays 8am-1pm, Wednesdays 3:30pm-6:30pm