From informative and instructive to just-for-fun, there's always a variety of things to learn, see, and do at the farm.
EVENT:  Pumpkin Mania 2016 – presented by the Thunder Bay District Giant Pumpkin Growers
Enjoy the action as local growers from around the region bring in their Giant Pumpkins for the big weigh off!  $1000.00 FIRST PLACE PRIZE!  Bring in your giant tomatoes or sunflowers for more cash prizes!   Plus!  Don't miss the ever popular Giant Pumpkin Drops.  Visit the Thunder Bay District Giant Pumpkin Growers' website for more info: www.tbaypumpkins.com
Pumpkin Mania 2016 Highlights:
Belluz Farms Fall Activities (wagon rides, 3 acre corn maze, pumpkin hunt, kids craft area, pumpkin ring toss, kids play area)
Barnyard Friends with their farm animals and pony rides
Food, desserts and pumpkin pie!
Pumpkin carving and decorating
Giant Pumpkin Candy Drop
Giant Minion Drop
Silent Auction and more family activities!
LIVE MUSIC WITH SHY-ANNE HOVARKA from 12pm – 2pm
Location:  Belluz Farms
September 24th, 2016
Hours: Main events 11am-3pm – Farm open until 5pm.
Admission is free with small fees for the activities you choose to do.
Weigh Off Registration:  10am-1pm
Weigh Off Begins: 1pm
EVENT:  Valley Harvest Art Fest – A NEW Festival Here at the Farm!
Come and celebrate our regional artists and artisans,
enjoy delicious farm-to-table food tastings from our creative local chefs,
and experience the delights of Ontario craft beer and Ontario wine ~
all in the beautiful autumn setting of Slate River Valley.
(Thank you, Karli Strohschein, for your beautiful event artwork and graphic design!)
Location:  Belluz Farms
September 10th, 2016
Hours: 1pm to 7pm
Tickets: $10.00 ($ 15.00 at the door)
Available in person at Belluz Farms and Fireweed (during business hours)
OR
PURCHASE YOUR TICKETS ONLINE HERE
2016 Monday Night Summer Workshops
Please sign up for our mailing list or Facebook page for all the new workshop schedules as soon as they are available.
Join us as we explore some techniques and kitchen tips that will help you to make the most of our local harvest.
All classes will be held at Belluz Farms.
Maximum of 10 registrants per class.  
Pre-registration and payment is required. 
Register by calling 475 5181 or email: jodi@belluzfarms.on.ca
Strawberry Jam – Done 3 Different Ways…
Monday, July 18th
7pm to 9pm
Jam making is about understanding the roles of pectin, sugar, a good seal and safe processing. In this class, we'll discuss the basics of jam making and demonstrate 3 different recipes. You'll get a jar from each recipe (3 jars total) to start off your jam cupboard. All materials included.
$50.00 + HST
Syrups and Butters
Monday, July 25th
7pm to 9pm
Want to know what's actually flavouring your soda? Or maybe have a tasty base to a unique cocktail on hand? Making your own fruit syrups allows you to whip up hand-crafted sodas and cocktails in a moment – super impressive! Syrups are also great toppings for sundaes, pound cakes and pancakes. What's truly fantastic about making syrups is that the "pulp" left behind is turned into delicious fruit butters for scones or cheese trays.
$50.00 + HST
In a Pickle! Get Dilly with Cucumbers, Beans & Carrots
Monday, August 15th
7pm to 9pm
Every great sandwich and soup combo needs an equally great pickle! So does a good Caesar… In this class, we'll discuss the basics of pickling veggies and demonstrate 3 different recipes for 3 different veggies (including those classic dill & garlic cucs!). You'll get a jar from each recipe (3 jars total) to start off your pickle cupboard. All materials included.
$50.00 + HST
Chutneys and Relish
Monday, August 22nd
7pm to 9pm
They are what elevates a hot dog or burger from typical fast food fare. They are that "yumm…did you make this?" addition to your cheese board. They are what makes a ploughman wanna keep ploughing in his British "Ploughman's Lunch". Chutneys and Relishes are the true delight of a good canning cupboard. In this class, we'll whip up three different recipes (including Claire's famous Hot Dog Relish). You'll get a jar from each recipe (3 jars total) to start off your canning cupboard.   All materials included.
$50.00 + HST
---
Educational Tours
Our goal is to create a knowledgeable, interactive and fun opportunity to learn about sustainable food and local farming. Jodi Belluz (B.Ed), has created educational programming that meets Ontario Curriculum requirements and targets multiple learning areas and expectations. Please call (807) 475-5181 to enquire about availability and rates.
Kindergarten and Primary Tours
From seed to flower to fruit, through honey-bee dancing, a "field hike", and fuzzy farm animals, students learn how the fruits & veggies they love to eat are grown.
Kindergarten and Primary School Tour Program Overview:
To enhance your visit, we have an optional Farm Unit Plan that has been created to specifically fulfill curriculum objectives. This unit is full of lesson plans and activities. If all lessons are utilized, the unit will take approximately one week to complete
In our Adventure Barn, we will take a hands-on approach to learning about bees, pollination and the fruits and vegetables we grow. Then we'll meet and greet our small, farm animals!
We'll take a "Field Hike" into our fields to see what's growing and to learn some special techniques we use to grow food in Northwestern Ontario.
Students will have time to enjoy our Straw Jump, Straw Tunnel & Giant Sandbox in the Play Area
In the spring, we'll plant a strawberry plant for you to take home. In the fall, we send each student home with a mini-pumpkin or gourd and each class takes back a jack o' lantern pumpkin to carve.
Intermediate and Senior Tours
Our goal is to create an educational experience that allows your Social Studies and Science units to come alive! Our New Tour targets curriculum objectives from the following areas: Patterns in Physical Geography, Natural Resources (Social Studies), Ecosystems (Science), Human Geography, Water Use (Social Studies), Plant Biology – cells, tissues, organisms (Science).
Intermediate and Senior Tour Overview:
A Unit Plan which specifically addresses curriculum objectives. If all lessons are utilized, this unit will taken approximately 1 week to complete. Completion of the unit is complementary to the tour but not necessary.
A Hands-On Lesson in our Agri-Classroom where we'll explore pollination, plant growth, and the role of ecosystems.
A Hike to our amethyst and slate quarry where we'll discover the geology of the Slate River Valley.
A tour of our fields in various stages of production and an exploration of sustainable agricultural practices.
View our availability for tours on the calendar at the top of this page!
---
Farm activities
Always Free Farm Admission
The farm is a great country outing where kids can have fun and learn about farming. Admission onto Belluz Farms is always Free whenever we're open. This includes access to our farm store, a free play area with sandbox and natural play structures, and a animal viewing area.  We do hope that you visit the farm store and buy something every visit to help us offset the costs of maintaining free access to our farm!  Remember – we are a working farm and adult supervision of children is required. You may also encounter some dirt while walking around so please come prepared!
Fall Wonderland special activities are weekends only starting the last weekend in September until Hallowe'en
In the fall we feature the following activities with Fees (babies under 2 are free):
Amazing 3 acre Maze that takes 20-40 minutes to complete ($5.00 includes $1 for United Way)
Farm Wagon Tour up to Strawhenge including a Pumpkin Bowling activity that lasts 25 minutes ($4)
Hidden Pumpkin Hunt, for children under 8 (or anyone young at heart), find a perfect kid sized pumpkin or squash in our mini corn maze to take home ($4).
Combo pricing for amazing maze admission and wagon tour is $7.00 per person 2 and over.
The Pumpkin Barn has a Kids Craft area and a Carnival Ring Toss game (both free with a donation to United Way).  There is also a Toddler Maze that is free with the purchase of any activity.
Barnyard Friends, Ruth Wolsiffer, will be on-site and offers pony rides and a petting zoo for a fee.
Including our Harvest Cafe with light meals and fall themed snacks, it is easy to spend a few hours at the farm making memories and just enjoying the outdoors.
Top
---
Wagon Rides & Strawhenge

In the fall, we offer wagon rides around our farm, up to the "Top of the World" (the highest point in the valley, and the scene pictured in our logo), and to the mystical Strawhenge – assembled out of massive strawbales by unknown forerunners. A great way to take in some fresh air and the fall colours of the Nor'Westers.  It also stops long enough to play Pumpkin bowling and admire the view.
Top
---
The Amazing Maze
What could amass more amazement than a massive maze made of maize? Come solve the riddles of our corn labyrinth, and see if you can guess its new shape. Check out some of our past designs below (click for large versions).  Jodi's father, Jack, designs a new maze every year!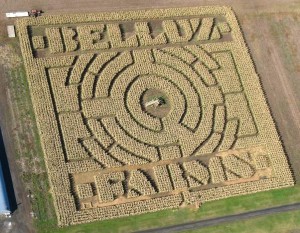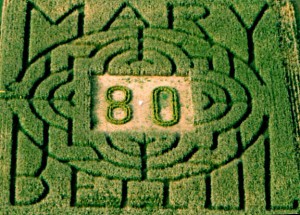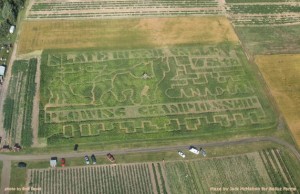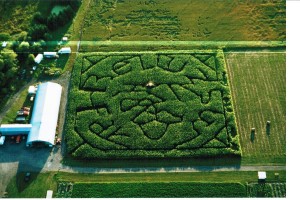 Top
---
Birthday Parties
Starting the last weekend of September until the last weekend in October we take bookings for birthday parties. Our weekends can be busy, so we only book 1 party each Saturday or Sunday from 11am-1pm. Reserve Early! Parties get their own private area with picnic tables.
Our special birthday rate is $9 (+HST) per child and includes: A Private Farm Wagon Tour to Strawhenge (takes 20 min.), the Amazing Maze (takes 20-30 min,), Pumpkin Hunt (includes a small pumpkin you take home), Kids Farm Play Area, Farm Animals & Petting Zoo, and, of course, a beautiful fall farm setting for your child's special day. 1 Adult per child is free, after that our Adult rate is $4 (+HST).
You provide your own party food, however, we do strongly suggest you bring re-usable and/or recyclable plates, cups etc… to help keep environmental impacts at a minimum. No styrofoam, please. Call 475-5181 x3 for more info.
---
Links and Useful Downloads
High Mowing Seeds and Belluz Farms Seed Starting Pamphlet – click to open!
Belluz Farms – What's in Season Handy Chart – click to open!
Remember seasons are based on weather and can fluctuate…
---