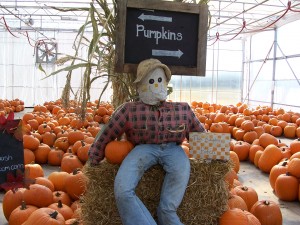 Sweet corn fans, fresh pick today!  Lots of Pumpkins ripening nicely!
We'll have some Sweet Corn available at the Self Serve this week and probably Saturday!  Call the hotline to double check 475-5181.  We had a frost last week and so the remaining pick your own veggies are over for the season.  Pumpkins are ripening slowly but nicely.  We've got a good supply available for this weekend and expect a huge crop available starting Thanksgiving weekend.
Farm Store is now open weekends only 11-5pm.
Sweet Corn, Cauliflower (3 kinds!), Garlic (4 varieties), Beets (all sizes), Carrots (3 colours),
Squash (lots of kinds), Specialty Potatoes (fingerlings, purple, butterball, etc), Cabbage (Savoy, Green, Red, and 'Kraut) & Ass't Heirloom Veggies. Storage potatoes (skins set) aren't available yet but should be starting Thanksgiving.  Open every weekend in October including Thanksgiving Monday 11-5pm!
Fall Wonderland – Weekends 11am-5pm, including Thanksgiving Monday.
Free farm admission, free play area and animal zone.  Only pay for the extra activities you choose! We've got an Amazing 3 acre Maze that takes 20+ minutes to complete ($5.00 with $1 to United Way)and a farm Wagon Tour to Strawhenge and Pumpkin Bowling activity that lasts 25 minutes ($3).  Special pricing for both activites is $6.50 per person 2 and over. Our 3rd activity for children under 8 is a Maze Hunt that includes a small edible pumpkin or squash to take home ($3).  The Pumpkin barn has a kids craft area ($ donation to United Way) and a Carnival Ring Toss game ($3).  Barnyard Friends offers pony rides for a small fee and we also have a Toddler Maze that is free with the purchase of any activity.